Stena Line has the widest ferry route network across Europe to and from the
UK, Ireland, Holland, Scotland and Wales offering fast connections for both leisure and business customers.
Save as much as 40% when you book your Stena Line ferry ticket on any of the
17 ferry routes Stena Line operate online using the drop down menu above.
If your travel times are slightly flexible click here to take advantage of our new lowest ferry ticket fare finder comparision service that will open in a new window.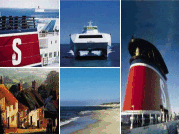 Stena Line Ferries
Getting you to and from the
UK, Ireland and Holland faster.